MD's Desk
We are succumbed and ambitious
Starting journey in 1973, today we are one of the most trusted names in communication in the Eastern Region with nationwide repute and international reach and specialty skills in specific areas.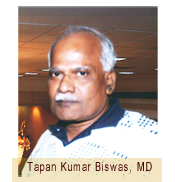 Our philosophy has always been to provide advertising solutions to our clients, by optimum use of the available resources within the stipulated time and through superior service.
Our walk of life in the lane of advertising has stretched over four decades along this passage of time. We have simply stood by our vision to serve and serve better from the platform of service. Sheer zeal to excel, imbibed with futuristic adaptability has helped us to take tide with confidence. Result, we are here, still growing. Apart from being equipped with all the basics of an ad agency should have we stand apart – since we never say 'No'.
Our service, capability, infrastructure, manpower, professionalism are few of our key words and goodwill.